Natural gas had been on a one-way path lower from November 2019 through June 2020. The price of the continuous contract on NYMEX fell from $2.905 to the lowest level since 1995, at $1.432 per MMBtu. The high last November was a lower high than in late 2018, when natural gas rose to $4.929 on the back of low inventories going into the peak season winter months.
We are now at a time of the year when natural gas prepares for the winter season. In the lead-up to the 2019/2020 winter, the amount of natural gas in storage across the US rose to a high of 3.732 trillion cubic feet. The high level of stocks caused the energy commodity to remain below the $3 per MMBtu level seen last November. This year, we are heading into the coldest months with even more natural gas in storage.
The most direct route for a risk position in natural gas is via the futures and futures options that trade on the NYMEX division of the CME. The ProShares Ultra Bloomberg Natural Gas (BOIL) and its bearish counterpart the ProShares UltraShort Bloomberg Natural Gas (KOLD) strive to offer a double leveraged return compared to the futures market's price action on the up and downside.
The latest stockpile data pushes the amount of gas in storage above the 2019 peak
On Thursday, October 1, the Energy Information Administration told the natural gas market that inventories rose by 76 billion cubic feet for the week ending on September 25.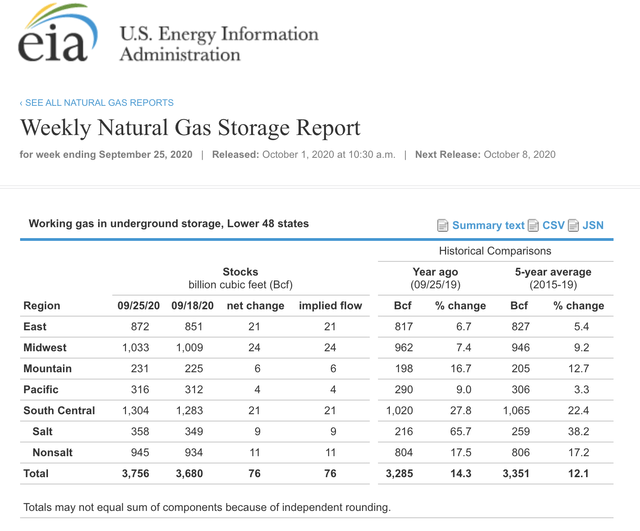 Source: CQG
The injection put stockpiles in storage across the United States at 3.756 trillion cubic feet. Stocks climbed above the 2019 peak when they reached 3.732 tcf at the end of the injection season in November.
Inventories were 14.3% above last year's level and 12.1% over
…