UFP Industries, Inc. (UFPI) "Universal Forest Products" is a commercial distributor of lumber and treated wood products. The company's main business includes retail, industrial, and construction markets each with leading specialized brands. While there were some concerns during the early stages of the pandemic regarding the operating outlook, surprising strength in the retail segment with consumers pursuing home improvement projects supported better than expected Q2 earnings. We see UFPI continuing to benefit from strong trends in the U.S. housing market driving operational and financial momentum for the remainder of the year. Beyond uncertainties regarding the strength of the economic recovery, we like UFPI given its overall strong fundamentals and see value in shares at the current level.

(Source: finviz.com)
UFPI Financials Recap
UFPI last reported its Q2 earnings on July 22nd with GAAP EPS of $1.08 which beat expectations by $0.48. Revenue of $1.24B billion was flat on a year over year basis but ahead of market estimates. The story here was exceptional trends in its retail segment where revenues climbed 22% y/y. The result helped balance a 27% y/y decline in its industrial business and 16% construction market which were more impacted by the COVID-19 pandemic.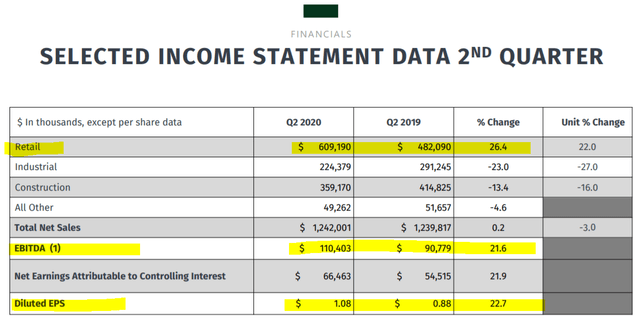 (Source: Company IR)
It's worth noting that UFPI counts on home-improvement retailers like Home Depot (HD) as major customers and these businesses were deemed essential during the pandemic allowing them to remain open. This is in contrast to the construction and industrial segment where customers shut down temporarily amid stay at home orders. Management highlights that the operating environment improved sequentially over the quarter through June setting up a stronger Q3 outlook.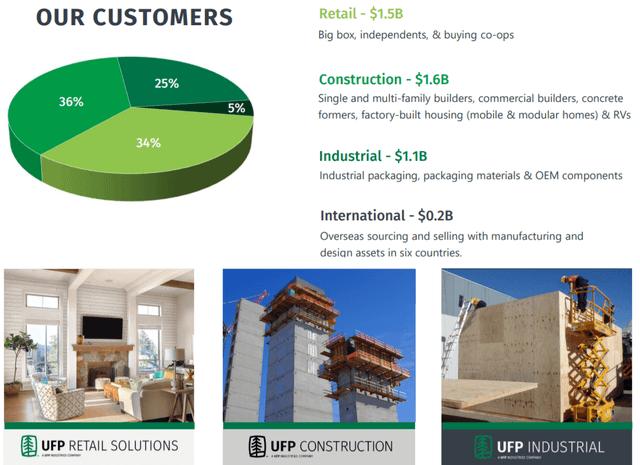 (Source: Company IR)
In terms of financials, a higher gross margin at 16.5% compared to 15.1% in the period last year drove a higher operating income. While the company sources lumber
…