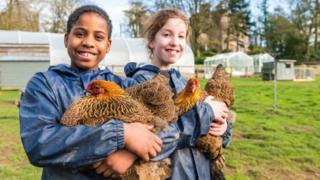 Schools and residential trip providers fear they will no longer be covered by insurance for visits cancelled because of coronavirus.
After changes last week, advice on the Association of British Insurers website no longer says schools will be covered for the loss of trips.
It now says schools should "seek a refund from the venue".
The ABI says the advice was amended to reflect exclusions in policies as the pandemic continues.
Outdoor education centres across the UK have been closed since March under government coronavirus restrictions.
Last week providers wrote to the prime minister asking him to save outdoor education, which they said "faces an existential threat".
Advising schools to ask for refunds rather than claim on their insurance for cancelled trips is another blow, according to Vanessa Fox, chief executive of the charity Farms for City Children.
Ms Fox says she spotted changes to the ABI's Frequently Asked Questions section last week after following a link from the Department for Education website.
She told the BBC she had copied and pasted the section into an email to a colleague on 6 October.
At the time it promised: "In general, most schools will be covered under their insurance policy."
The guidance advised schools to first seek a refund from the venue or tour provider – but said if the venue could no longer host the trip "because of official government guidance, the closure of the venue, or their reluctance to accept school trips due to their stated concerns about the spread of coronavirus, the school will be covered".
However, she says the following day, the mention of cover had disappeared, with the answer just saying "the school should seek a refund from the venue".
…