The CAD/JPY currency pair, which expresses the value of the Canadian dollar in terms of the Japanese yen, has been edging its way toward levels that were seen prior to the start of 2020. As stocks began to sour in February this year, the Canadian dollar also started to fall alongside other commodity currencies. Currencies such as the Japanese yen rallied, which was unsurprising to most traders given the reputation of the yen as a conventional safe haven.
From the start of the fourth quarter of 2019 into the first quarter of 2020, CAD was trading against JPY inside of the range of 80-85, with an approximate midpoint being at the 83 handle (as illustrated below). A stronger CAD is in most cases a constructive for risk assets such as equities, especially when set such strength is against JPY.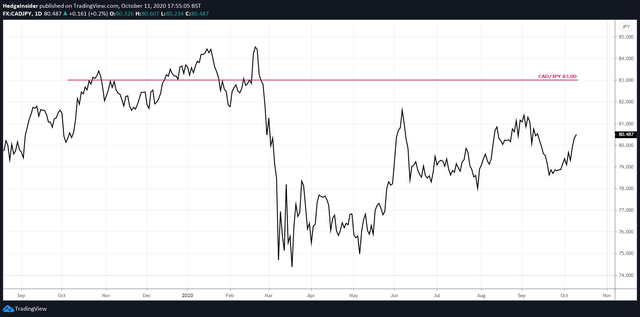 (Source: TradingView. The same applies to all subsequent price charts presented hereafter.)
From the level of 85 down to the lows in March this year at the 74 handle, the midpoint is around 80, which the current market price for CAD/JPY is perched just above. The question now becomes whether we will see further strength.
Certain commodity currencies such as the Australian dollar and New Zealand dollar were able to retrace their steps back to their previous highs (after also crashing in February and March). These two currencies have already rallied against USD and JPY (both conventional safe havens in their own right). The Canadian dollar has struggled against the Japanese yen, although, interestingly, CAD is currently as strong against USD as it was prior to the emergence of the COVID-19 pandemic which shook financial markets (including FX) this year.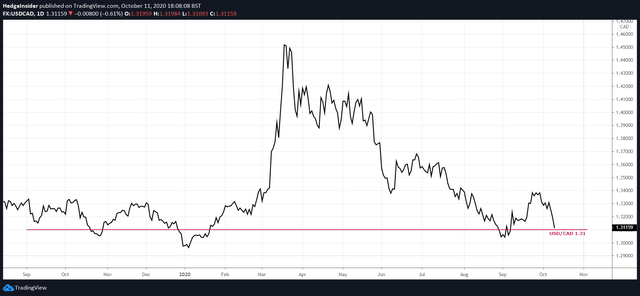 (USD/CAD is now trading at similar levels to 2019; the Canadian dollar has effectively won back all its
…