It's been nearly four months since I last checked on Ares Management (ARES), and since then, the shares haven't really budged at all. Since June 8th, the shares have returned about 2%, when dividends are factored in. While this performance may not be inspiring for some, I don't believe it tells the full story.
As seen below, Ares Management is a relatively low-beta stock, which means that its stock price has swung relatively little compared to the rest of the market. For this reason, I believe Ares is a relatively good place for investors who are seeking a place to park cash, while remaining in equity market. In addition, I see upside potential from where the stock trades today; so let's get started.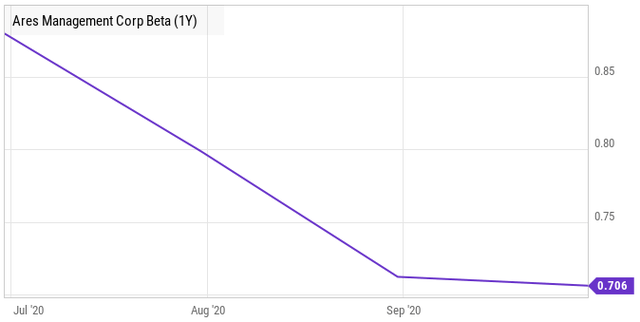 (Source: YCharts)
A Look Into Ares Management
Ares Management is a leading investment manager that has shown resiliency and an ability to thrive during recessions and the current pandemic-induced downturn. It was founded in 1997 that operates in the three segments of Credit, Private Equity, and Real Estate.
Ares currently has $106 billion in total FPAUM (fee-paying AUM), with about 75% of assets in credit-related investments, 16% in private equity assets, and the remaining 9% in Real Estate. It has a stable and high-quality investor base that includes pension funds, insurance companies, banks, sovereign wealth funds, and university endowments.
What I find impressive is that the Ares continued to grow FPAUM both sequentially and YoY, by 3.4% and 18%, respectively, in the latest quarter. This translated into a 26% YoY growth in FRE (fee-related earnings), as many of Ares' funds are mature, and therefore have lower administrative and setup costs than newer funds. This translates into higher profitability, which is why FRE grew faster than FPAUM.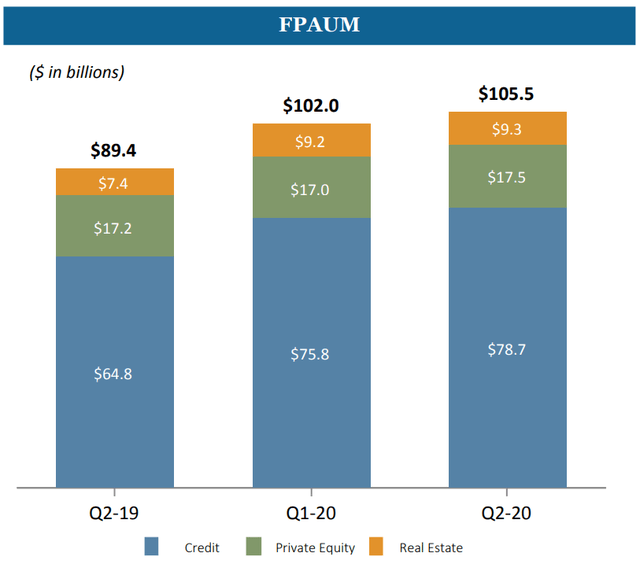 (Source: Company Earnings Presentation)
Overall, I see Ares as
…