Researchers tested a new form of medical marijuana that treats pain but doesn't get the user high, prompting patients who need medical marijuana to declare, 'Thank you?' – Jimmy Fallon
When Vegas steps in, you know it will be big, loud, and flashy, and Planet 13 Holdings Inc. (OTCQX:PLNHF) exemplifies this perfectly.
Planet 13 Holdings Inc. is a vertically integrated cannabis company based in Las Vegas, Nevada. The company is probably best known for its massive cannabis superstore located just off the Vegas strip. Their flagship store recorded an impressive $63M in revenue and over one million visitors in 2019, accounting for nearly 10% of all of Nevada's cannabis sales that year.
A store of this kind would have been unheard of only a few years ago. At 13,000 square feet, this complex is massive. Consumers have access to a coffee shop, bistro, event space, and, of course, the dispensary itself.
It's far closer to a 'cannabis experience.' Something you'd expect only Las Vegas to birth. It's a destination in and of itself for cannabis connoisseurs visiting Sin City. Not only that, but much of the product sold in this superstore is produced directly by Planet 13 Holdings Inc. Nearly 30% of all sales in the superstore were inhouse brands.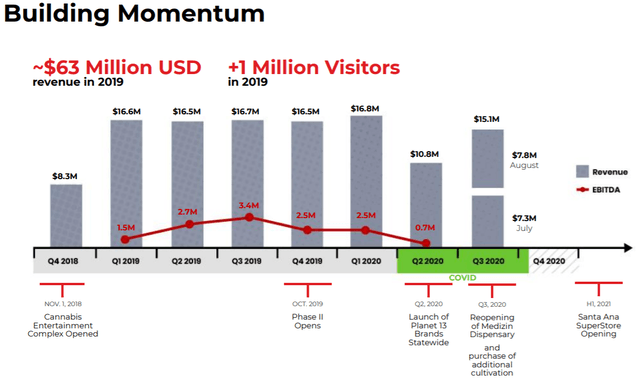 Source: Planet 13 September 2020 Corporate Presentation
Compared to its peers, PLNHF has performed remarkably well since its inception in 2018, though the last two months have seen the name fall by over 25%. However, this recent drop may offer an opportunity to obtain exposure to PLNHF at a discounted price.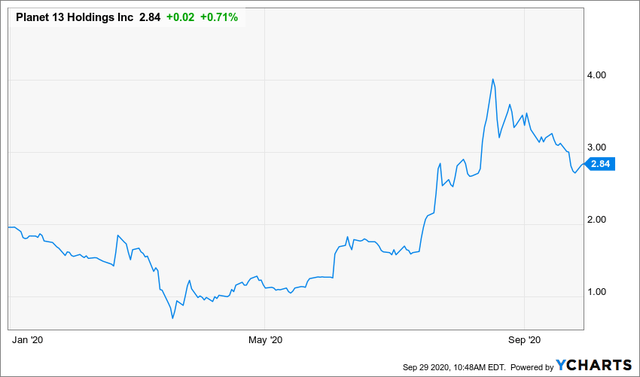 Source: YCharts
Like most businesses, Planet 13 didn't escape the economic pain brought on by COVID. Q2 2020 revenue was down at $10.76M compared to the previous four quarters, which all surpassed $16M. Lockdowns all but closed their superstore
…