Investment Thesis
Headquartered in Beverly Hills, California, PacWest Bancorp (PACW) is a $27 billion asset bank holding company for Pacific Western Bank. PacWest focuses on relationship-based commercial banking to small, middle market, and venture-backed businesses across the United States rather than your more typical retail community bank. That said, PAWC does provide traditional banking services to over 70 branches throughout California and one branch located in Durham, North Carolina. Its main executive offices are in Denver, Colorado. While the past few years have been relatively quiet, PACW has historically supplemented organic growth with strategic acquisitions, successfully completing almost thirty acquisitions since 2000.
When I review PACW, I find that it has built an attractive franchise with unique asset and deposit generating capabilities across many different commercial segments. Following significant balance sheet de-risking, I believe earnings are becoming less volatile with a more sustainable net interest margin (NIM). In addition, the strong profitability due to a lean operating cost structure has also enabled a sustained strong dividend payout ratio, even though it was lowered earlier this year.
While I do believe the company is on a more stable footing now, upside catalysts pretty limited, in my view. While the current valuation might seem enticing, the loan portfolio is pretty opaque and PACW does have a history of larger than average net charge-offs ((NCOs)).
Personally, I would recommend staying on the sidelines due to the possible credit problems. I am waiting until third quarter earnings to re-review the credit profile. That said, PACW does have a great earnings profile and should earn multiples more than its peer bank counterparts once interest rates work themselves higher again.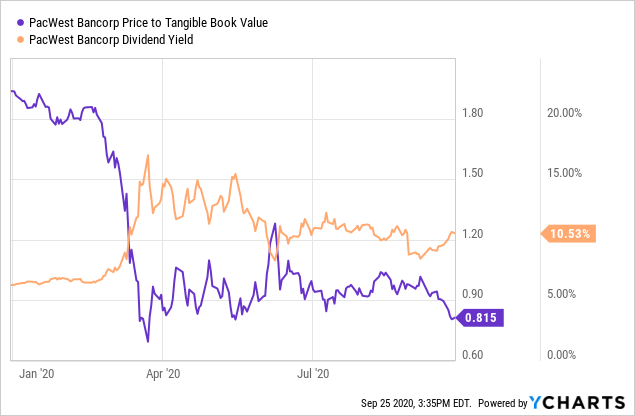 Revenue Outlook Looks Strained
In the second quarter, the net interest income of $256 million was up just slightly relative to first quarter
…