U.K. building materials supplier SIG (OTC:SIIGY) has had a rough year, with a management change and equity raise to shore up its finances. In SIG Plc: Low Price But High Risk I assessed that the turnaround challenges it faces are significant and it is not investable with confidence until there is clear evidence of a sustained turnaround. That investment thesis remains intact, with the newly released half year results not yet providing strong evidence of a sustained turnaround. Continue to avoid.
The Company Swung to a Loss and Scrapped the Interim Dividend
The first half was heavily impacted by the lockdown and building restrictions, which subdued demand across the building supplies trade as most workmen downed tools for several months. So it was no surprise that there was a sharp fall in revenue versus the comparative six-month period the year before.
Given the costs incurred over lockdown and dealing with the impacts of COVID-19, it is also no surprise that the company fell to a loss. It is worth noting that the loss was sizeable. At 9.1p per share at the basic level, and shares trading at 24.1p, the loss in this six month period was equivalent to over a third of market cap.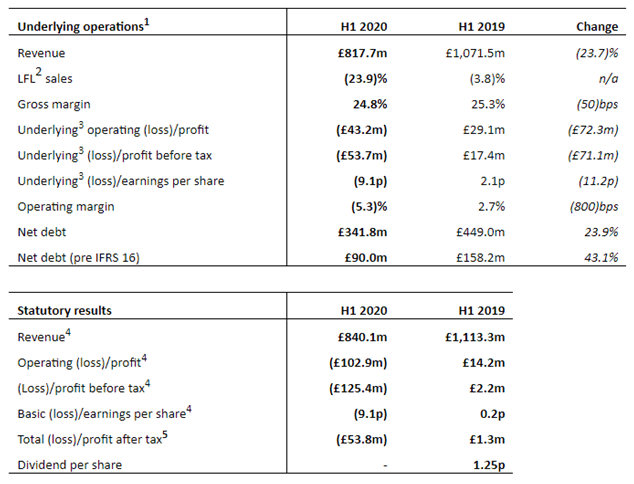 Source: company half year results
Given those results, and the need for cash as shown by the capital raise, it is no surprise that the interim dividend was axed. That followed in the footsteps of the final dividend, which was axed earlier in the year.
Realistically, it is hard to see the dividend being restored any time soon. The company continues to experience turbulence in its markets and is seeking to rebuild its financial base. So dividends will likely be a low priority in the coming year, if not longer. Indeed, the company itself signaled in
…