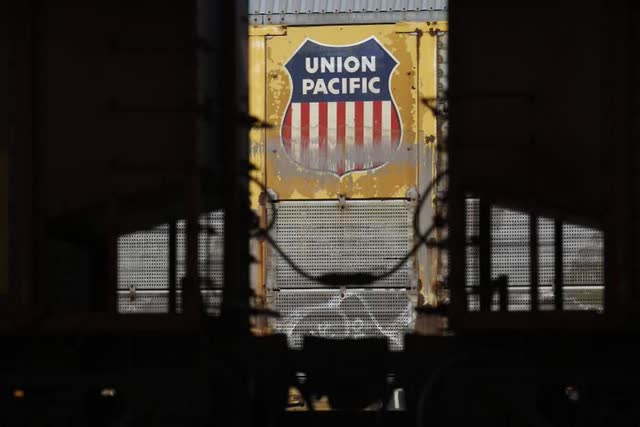 Source: Forbes
Union Pacific (UNP) reports earnings on October 22nd. Analysts expect revenue of $4.89 billion and EPS of $1.98. The revenue estimate implies a double-digit percentage decline in revenue. Investors should focus on the following key items.
Revenue Continues To Decline
The pandemic has practically shut down business activity. Falling business activity leads to falling revenue traffic and falling revenue for Union Pacific. For the first 38 weeks of 2020, combined U.S. rail traffic (carloads and intermodal units) fell 10.9% Y/Y. That portends a decline in revenue for Union Pacific.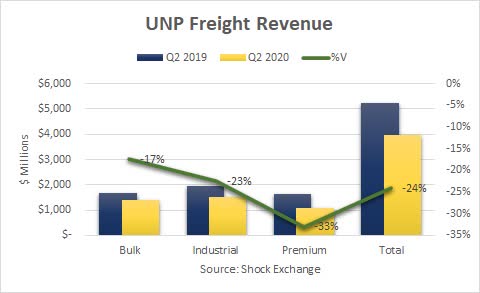 Last quarter, rail traffic and average selling price ("ASP") fell 20% and 6%, respectively. Each of the company's major product categories experienced revenue declines.
The Bulk segment included coal, grain, food, fertilizer, coal and renewables. Revenue from the segment declined 17% on a 15% decline in carloads and 2% decline in ASP. Coal was negatively impacted by lower natural gas prices and overall softness in the market. General Electric (GE) recently exited the coal power market due to unattractive economics, implying weakness in the market may not abate anytime soon. The pandemic negatively impacted shipments of food and refrigerated products.
The Industrial segment fell 23% on an 18% decline in volume and 6% decline in ASP. Low oil prices hurt energy revenue, while weak economic activity likely stymied industrial revenue. Meanwhile, the Premium segment fell as the pandemic hurt international intermodal revenue.
Total carloads fell 20% Y/Y, with each major product segment experiencing double-digit percentage declines.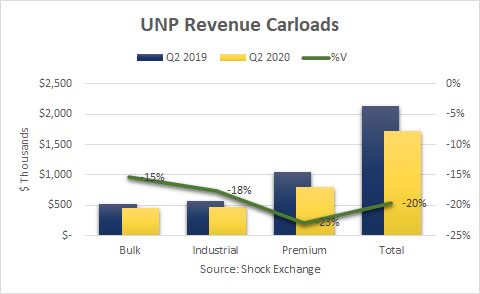 The Premium segment, which included intermodal and automotive, experienced the largest decline in volume. Intermodal volume will likely track movements in global economic activity. Automotive could face more headwinds if consumers shun big ticket items amid the pandemic. Industrial could also face headwinds until the economy fully reopens.
The company's blended ASP fell
…