Annaly Capital is a mortgage REIT (the company basically borrows money against its book value to buy mortgage related assets, mainly agency RMBS), and it often captures the eye of income-focused investors because it offers a high yield. Mortgage REITs have been through a lot this year as liquidity challenges caused heightened volatility. However, not all mortgage REITs are created equally. In this article we review Annaly Capital, with a particular focus on the preferred shares. The preferreds offer compelling high yields, price appreciation potential and they are safer than the common. We consider Annaly's current balance sheet and liquidity, credit spreads, share price action, valuation and risks. We conclude with our opinion on investing.
Overview
Annaly Capital Management (NLY) is one of the largest mortgage real estate investment trusts (mREIT). It invests in and finances residential and commercial real estate assets. As of 30 June 2020, NLY had $103.6 billion invested in various assets, and the company operates through four segments:
Agency (93% of total invested assets): invests in GSE backed RMBS that are created out of a pool of similar types of mortgages from banks (through the process of securitization).
Residential Credit (2.5% of total invested assets): invests in non-agency residential mortgage assets through securitized products and the whole loan market.
Commercial Real Estate (2.4% of total invested assets): originates and invests in commercial mortgage loans, securities, and other commercial real estate debt and equity assets.
Middle Market Lending (2.1% of the total invested assets): provides financing to private equity backed middle market businesses.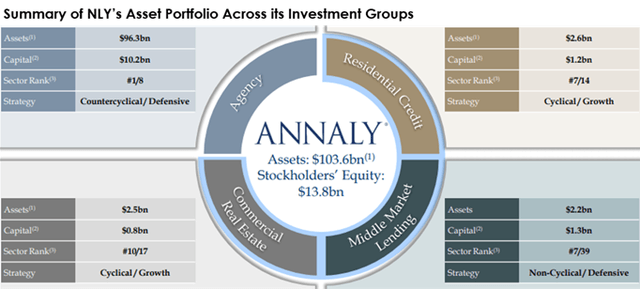 Source: Annaly Capital Management
Annaly's RMBS Assets Provide Increased Safety
As we saw above, the overwhelming majority of Annaly's assets are invested in Agency Residential Mortgage Backed Securities (NASDAQ:RMBS) which provide a high level of safety because the underlying mortgages that these securities represent
…