Co-produced with PendragonY
The Business
Each business goes through several stages. First, there's the introduction stage. When the business picks up, it becomes the growth stage. Following that, it reaches cash cow stage whereby the growth is lower, but the company is generating high enough cash to be able to reward shareholders. This is where Altria (MO) is today. In this case, MO is able to reward shareholders with very high dividends.
Altria is a tobacco company owning the U.S. rights to many of the most popular brands like Marlboro, Benson & Hedges, Parliament, and Virginia Slims. The revenues from these brands make it one of the largest tobacco companies in the U.S. with its headquarters in Richmond, Virginia. While it has investments outside of tobacco, most notably Anheuser-Busch-Inbev (BUD), Cronus Group (CRON), and JUUL, it still gets approximately 85% of its revenue from cigarettes. "I Quit Original Smoking" (or IQOS) is a new heat-not-burn tobacco product that's also seeing significant investment from Altria.
In past articles on Altria, we have pointed out that tobacco companies have typically had improving stock prices when the economy struggled. This year has proven to be the exception to that rule. And while MO share prices declined along with the rest of the market in late February and March, it also has been slower than the rest of the market to recover from those declines. If the company's operations have recovered, this lack of share price recovery is an opportunity.
So how has the share price done?
Here's how the share price of MO compared to the S&P 500 during the initial market reaction to the COVID-19 crisis from Feb. 17 to April 30: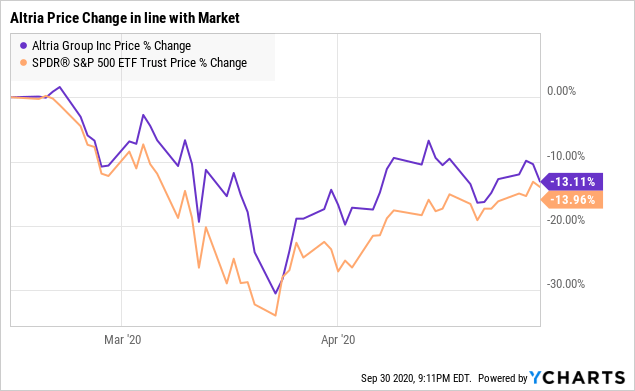 So MO crashed pretty much in line with the market as a whole and
…