After trading around the $40 per barrel level since early June, the NYMEX crude oil futures market has been spending more time below the pivot point than above since early September.
While inventories have declined and production is lower worldwide, the coronavirus continues to threaten demand for the energy commodity. Seasonality is also weighing on the price as we move towards the coldest period of the year in the northern hemisphere. Crude oil and product demand tend to decline during the winter months.
On the continuous NYMEX crude oil futures contract, technical support stands at the low from the week of September 8 at $36.13. Last week, the price traded to a low of $36.63 per barrel. Below there, the next level of support is at the mid-June low of $34.36 per barrel.
Meanwhile, the US election is now less than one month away. The contest is, among many things, a referendum on the future of US energy production. Over the past years, the US became the world's leading producer of crude oil and natural gas. The potential for a significant shift in policy starting in 2021 could cause lots of volatility in the crude oil futures market over the coming weeks.
The ProShares Ultra Bloomberg Crude Oil (UCO) and its bearish counterpart the ProShares UltraShort Bloomberg Crude Oil ETF (SCO) are leveraged products that move higher and lower with a portfolio of NYMEX crude oil futures contracts.
The weak season could send the price for a test between $30 and $35 per barrel
The winter months can be a bearish time for the oil market. Gasoline demand tends to decline during the coldest months of the year. During challenging periods, oil tends to drop during the later months.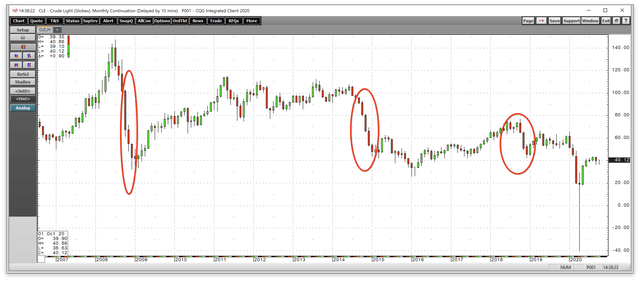 Source: CQG
As the chart highlights, oil continued to fall in
…