The WisdomTree LargeCap Dividend ETF (NYSE:DLN) is meant to track the performance of the largest U.S. dividend-paying stocks. The allure here is that companies able to regularly distribute payouts to shareholders generally present stronger fundamentals with lower risk and potentially higher total returns. Indeed, the fund has a value-tilt while offering a 2.7% yield which is attractive relative to the broader equity market. While the fund benefits from a portfolio built around high-quality stocks, DLN suffers from what we view are structural weaknesses in dividend weighted index tracking methodology. The combination of disappointing performance history and poor risk profile, despite similar exposure to broad index funds, limits DLN's value in the context of a diversified portfolio. We recommend investors avoid this strategy and look for alternative dividend-focused ETFs.

(Source: finviz.com)
DLN Background
DLN is designed to track the 'WisdomTree U.S. LargeCap Dividend Index' comprised of the 300 largest companies ranked by market capitalization. An important aspect of the tracking index methodology is that holdings are dividend-weighted, which reflects the proportionate share of the projected aggregate year-ahead cash payout for each underlying company based on the most recent distribution.
The result is that Apple Inc. (AAPL) which only yields 0.7%, but distributes over $14 billion in total annual dividends, and Microsoft Corp. (MSFT) paying out $15.1 billion in dividends are the two largest current holdings of the fund. Separately, a high-yield stalwart like AT&T Inc. (T) with a 7.25% yield is among the top holdings as the company's annual cash distribution of $14.9 billion over the past year is also among the largest in the market.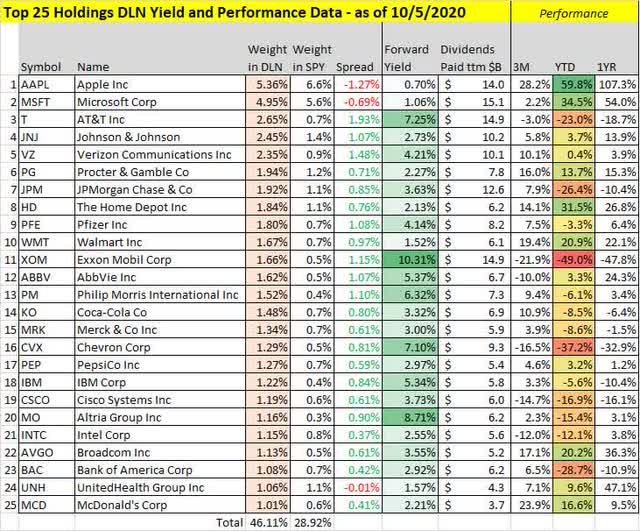 (Source: data by YCharts/ table by author)
WisdomTree explains that this methodology has the effect of tilting the total return profile of the fund towards dividends and a value equity factor by favoring companies with
…