Investment Thesis
Headquartered in Kalispell, Montana, Glacier Bancorp, Inc. (GBCI) is a $14 billion regional bank holding company and parent to Glacier Bank. GBCI provides commercial banking services to communities throughout Montana, Idaho, Utah, Washington, Wyoming, Arizona, and Colorado.
About 5 years ago, GBCI's management team decided to clean out most problem assets (which took about two years to complete) and instituted a more disciplined credit culture which limited concentrations in oversupplied or higher credit risk areas.
Today, the loan book is very granular and GBCI's markets may actually benefit from people fleeing cities for more space and a cheaper cost of living as remote work becomes more normal. GBCI has a robust loan loss reserve and very high capital levels, allowing them flexibility to weather any challenges that may arise.
With respect to GBCI relative to community bank peers, GBCI's earnings should prove more stable due to greater net interest margin (NIM) defense, more consistent loan growth, and lower credit losses. Over its storied history, GBCI has been a preferred acquirer with limited competition from other banks across its Mountain West footprint.
On a longer-term investment horizon, I am fairly neutral on the name. GBCI has historically had a well managed expense base, but revenue headwinds are looming and likely to put downward pressure on profitability. While the current valuation is not overly expensive, I would not be surprised to see the shares stay steady near current levels before working higher in lockstep with peer banks.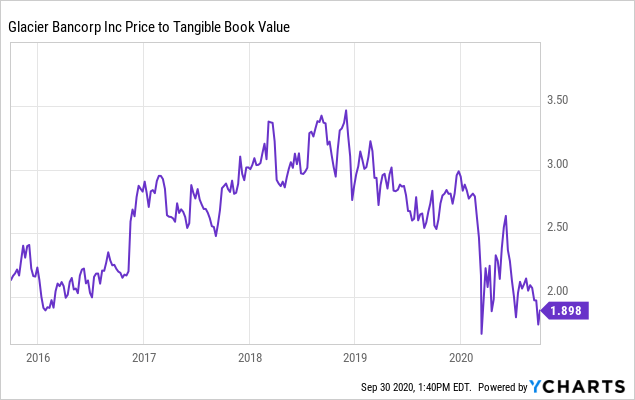 Revenue Outlook
While GBCI has historically held pricing power advantages through the Rocky Mountain States, due to limited competition, overall loan growth has usually lagged national peers. Following historical trends, after backing out the $1.4 billion PPP loans, the entire lending portfolio of $11.5 billion decreased $61.6 million from the
…