By Philip Lawlor, head of Global Investment Research
Given all the market anxiety surrounding the upcoming US presidential election, we thought a fact-based, dispassionate look at how markets have behaved in previous election cycles may be useful.
Our findings, which dissected three-month moves in both US stocks and nominal and real Treasury yields following the past five US elections, are shown in the table below. The overwhelming (and hardly surprising) conclusion: the economic backdrop has been a far bigger driver of post-election market performance than the winner or winning party.
Three-month market moves following the past five US presidential elections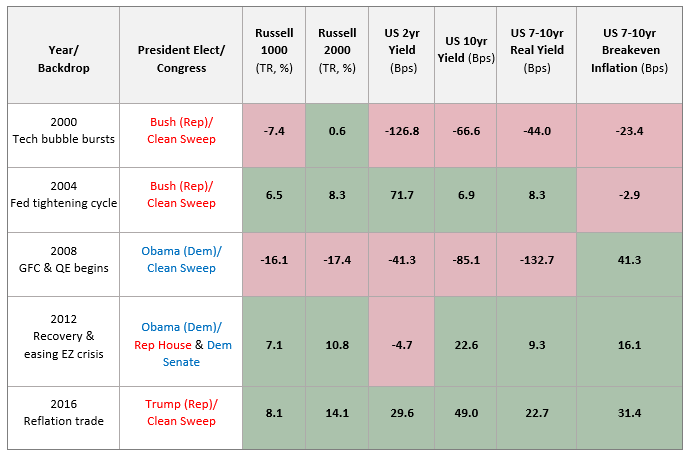 Source: FTSE Russell/Refinitiv. Data as of September 30, 2020. Past performance is no guarantee to future results. Please see the end for important disclosures.
In two clear examples, the pullback in equities and Treasury yields following the 2000 and 2008 elections, when different parties won in clean sweeps, was more likely an outgrowth of the economic crises prevailing during both periods (the bursting of the tech bubble and the global financial crisis, respectively) than a reaction to the election outcome.
Different parties also won the White House in 2004 and 2012, but the improving economy and the easing of the Eurozone debt crisis (reinforced by ECB President Mario Draghi's pledge to do "whatever it takes") would seem the more likely catalysts of the subsequent gains in stocks and bond yields. The rally following the Trump and Republican clean sweep in 2016 owed much to the reflation trade and ongoing growth optimism.
As they say, "it's the economy, stupid"
As this history lesson suggests, US market performance in the months following this year's election is more likely to hinge on the degree of success in containing the coronavirus and the US economic outlook than on whether the Republican or Democrat wins.
…