Apartment REITs are still cheap.
Some investors are going to yell: "I won't buy anything related to apartments until all of the issues impacting apartments are gone."
Wonderful. That's how investors can pay a much higher price. It is the fear over the current issues that drove apartment REIT prices lower.
Don't worry, I won't just say the REITs are cheap without math. We're not your typical analyst: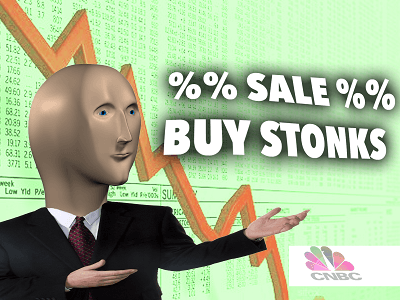 Source: Knowyourmeme.com
Rather than just saying it is cheap, we want to show you. This is a sector we've been emphasizing lately for subscribers of The REIT Forum. We want to share part of our latest housing REIT Update.
Let's run through the apartment REITs:
| | | | |
| --- | --- | --- | --- |
| Company Name | Ticker | Div Yield | AFFO or Core Yield |
| NexPoint Residential Trust Inc | NXRT | 2.85% | 5.10% |
| Mid-America Apartment Communities Inc | MAA | 3.26% | 4.55% |
| Camden Property Trust | CPT | 3.45% | 4.31% |
| Essex Property Trust Inc | ESS | 3.98% | 5.53% |
| Independence Realty Trust Inc | IRT | 4.06% | 5.89% |
| AvalonBay Communities Inc | AVB | 4.06% | 5.12% |
| UDR, Inc. | UDR | 4.14% | 5.30% |
| Equity Residential | EQR | 4.41% | 5.32% |
| AIMCO | AIV | 4.50% | 5.34% |
| Clipper Realty | CLPR | 5.79% | 8.28% |
| Bluerock Residential Growth REIT | BRG | 7.87% | 6.83% |
| Preferred Apartment Communities Inc. | APTS | 12.50% | 7.10% |
We need to highlight that APTS is not like the other apartment REITs. It invests a material amount of the portfolio in properties which are clearly not apartments. We intend to have a longer article coming up on that in the future, but it isn't ready yet. We want to focus on things that impact the entire sector. The yields are much higher than normal for the sector: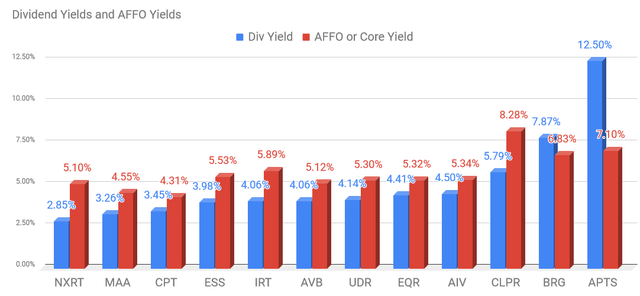 Source: The REIT Forum
Market-Implied Cap Rates
One way to evaluate equity REITs is to use the market-implied cap rate. This can be a useful tool for evaluating if prices might be reaching absurd levels. For reference,
…