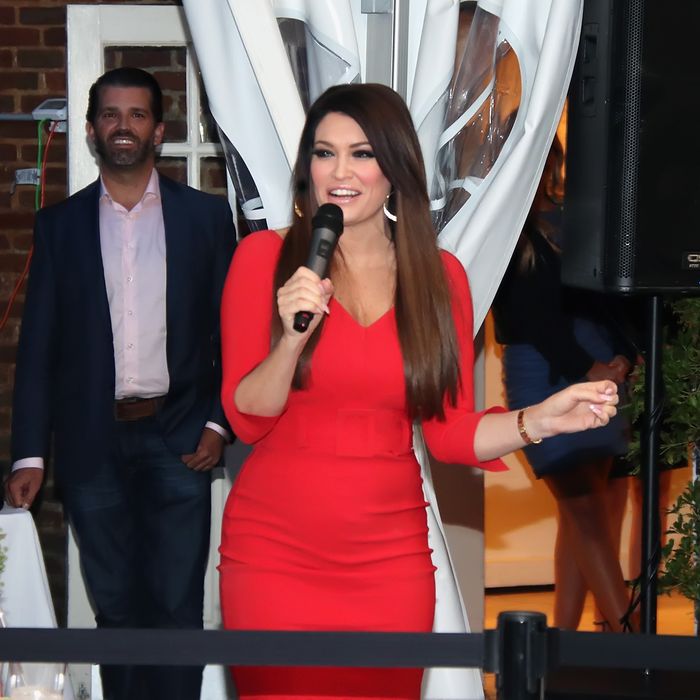 A little over a month since her prominent appearance at the Republican National Convention, a report from the New Yorker's Jane Mayer provides new information on how Kimberly Guilfoyle left her prior position at Fox News in the summer of 2018.
It was previously reported that the conservative attorney, who is now the Trump campaign's finance chair and Donald Trump Jr.'s girlfriend, left her position as co-host of The Five during a sexual misconduct investigation. But on Thursday, Mayer published the first details of the accusations against Guilfoyle, which were made by a former assistant who accused her boss of repeated sexual harassment:
The woman was hired in 2015, just out of college, to work as an assistant for Guilfoyle and another former Fox host, Eric Bolling. According to a dozen well-informed sources familiar with her complaints, the assistant alleged that Guilfoyle, her direct supervisor, subjected her frequently to degrading, abusive, and sexually inappropriate behavior; among other things, she said that she was frequently required to work at Guilfoyle's New York apartment while the Fox host displayed herself naked, and was shown photographs of the genitalia of men with whom Guilfoyle had had sexual relations. The draft complaint also alleged that Guilfoyle spoke incessantly and luridly about her sex life, and on one occasion demanded a massage of her bare thighs; other times, she said, Guilfoyle told her to submit to a Fox employee's demands for sexual favors, encouraged her to sleep with wealthy and powerful men, asked her to critique her naked body, demanded that she share a room with her on business trips, required her to sleep over at her apartment, and exposed herself to her, making her feel deeply uncomfortable.
The details come from a 42-page complaint drafted by the assistant's attorneys and sent to Fox

…