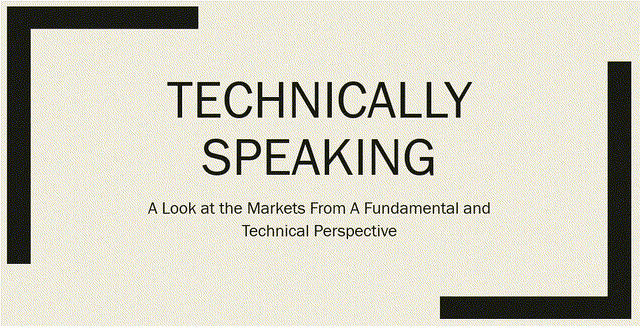 Let's start the week by looking at last week's fund flows from ETF.com: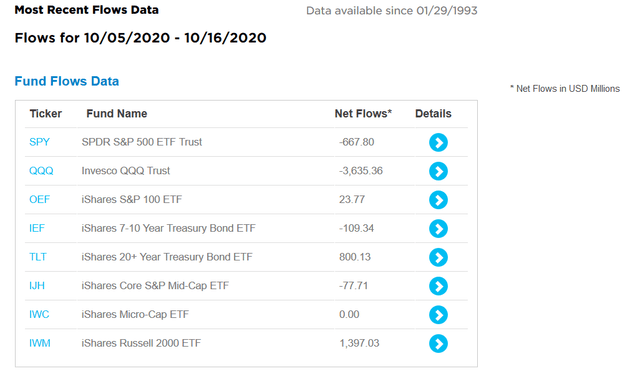 Both SPY and QQQ had outflows last week, although QQQ's was massive. IWM stands in contrast. This partially explains why small-caps are doing better than larger caps right now. The long end of the treasury market also had a decent inflow of fresh capital.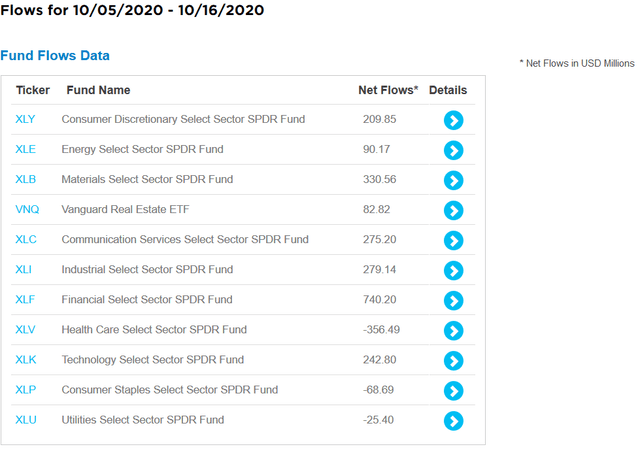 Only defensive sectors had outflows last week — which is interesting since these securities are rising relative to others. Financial services had the largest inflow. This is a bit odd since this sector is probably about to report increased losses and delinquencies caused by the Spring lockdowns. The other inflows were modest, relatively speaking.
Europe is experiencing a virus resurgence (emphasis added):
Earlier in the week, France, Europe's second-largest economy, downgraded its forecast for the pace of expansion for the last three months of the year from an already minimal 1 percent to zero. Overall, the national statistics agency predicted the economy would contract by 9 percent this year.

The diminished expectations are a direct outgrowth of alarm over the revival of the virus. France reported nearly 19,000 new cases on Wednesday — a one-day record, and almost double the number the day before. The surge prompted President Emmanuel Macron to announce new restrictions, including a two-week shutdown of cafes and bars in Paris and surrounding areas.

In Spain, the central bank governor warned this week that the accelerating spread of the virus could force the government to impose restrictions that would produce an economic contraction of as much as 12.6 percent this year.
This is the same scenario that several Fed governors have warned about: a rising number of virus cases force localities to issue orders that slow economic growth. It's a very real possibility this fall as flu season gets underway.
…