Alstom (OTCPK:ALSMY) (OTCPK:AOMFF) recently announced the signing of a definitive purchase agreement for Bombardier Transport (BT) at an updated €7.15 billion enterprise value – a €300 million reduction from the previous announcement. The expected closing has been moved forward to Q1 '21 (relative to H1 '21 previously). While the lower valuation is a slight positive, I believe that the revised terms remain unfavorable to Alstom, considering the risks associated with BT's project execution and the challenging path toward margin recovery at BT. Pending evidence of free cash flow improvement and the resolution of project issues at BT, I remain on the sidelines.
A Closer Look at the Updated Terms
To recap, a definitive purchase agreement has now been officially signed between Bombardier (OTCQX:BDRBF), Alstom, and Caisse de depot (CDPQ) that will see Alstom purchase BT (currently owned by CDPQ) for a lowered $8.4 billion enterprise value (€7.15 billion). Excluding further downward adjustments linked to the net cash protection mechanism, the implied price range for the acquisition is in the €5.5 billion to €5.9 billion range (down from the prior €5.8 billion to €6.2 billion).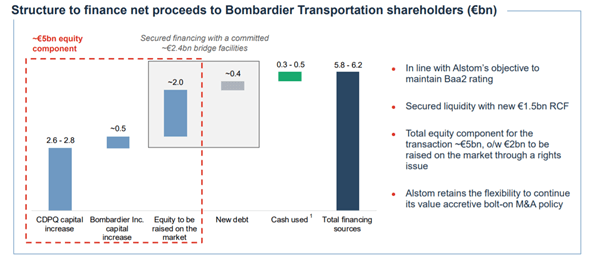 Source: BT Acquisition Presentation Slides
While the moderate price cut is positive, it was already widely anticipated by the market after BT reported c. €380 million in unexpected project charges for its FQ2 results. And considering Alstom has explicitly stated it will take FQ2 results of BT into account when negotiating a final, definitive merger agreement, the extent of the reduction (€300 million EV vs. the €380 million charge) was perhaps even a little disappointing. Encouragingly, the closing window was narrowed to Q1 '21, although the financing structure remains the same as communicated previously, including the €2 billion rights issue and the planned reserved capital increases of CDPQ and Bombardier at €2.6 billion and €0.5bn,
…