Pretium Resources (NYSE:PVG) is a mid-tier gold producer that operates the high-grade Brucejack mine in British Columbia, Canada. Brucejack is one of the newest and highest grade mines in the sector, but has been plagued by volatile operational performance since going into production in mid-2017. After widely missing guidance in 2019, management released an updated reserve and mine life in the first quarter of this year that showed lower grades and production, sending the stock tumbling further.
Despite these challenges, the company has been surprisingly consistent in generating free cash flow and reported a record second quarter that sent its shares up 25% in one day. With gold prices now hovering around $1,900 per ounce, Brucejack could be one of the most profitable independent assets in a tier-one jurisdiction, making it an attractive takeover target for larger producers looking to grow production.
Looking at a five-year chart, it's clear that the company has had frequent ups and downs. Many investors have been turned off by the roller-coaster trajectory of the share price, with the typically volatile price of gold looking much more stable in comparison.
Five-year share price performance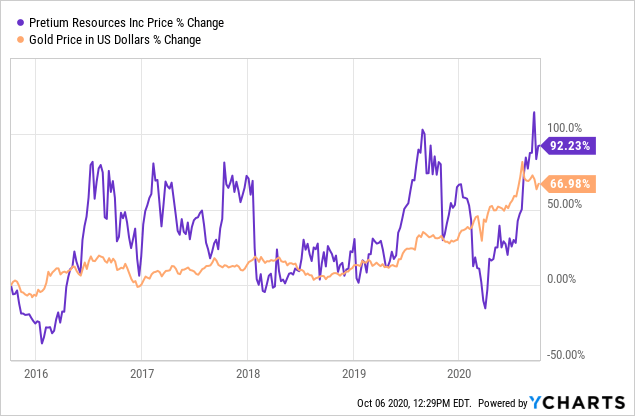 (Source: YCharts)
Brucejack: A Troubled Asset with Long-Term Potential in a Top Jurisdiction
After Pretium acquired the project for $450 million in 2010 and started aggressively drilling newly discovered zones, the mine progressed through economic studies and permitting before reaching commercial production in July 2017. Over the past decade, the project has seen many highs and lows, from heightened expectations by promotional management of a tier-one mine to engineering consultants and critics who suggested the project was not mineable at all.
The vein system being exploited at Brucejack is very high grade but complex, making consistent mine planning difficult. Going back to 2018, the first full year of commercial production, head
…