The onset of COVID-19 and ongoing social distancing efforts does not bode well for apparel retailers such as H&M (OTCPK:HNNMY), which mainly operate across city-center stores. Even with a turnaround effort in place, uncertainties around tighter controls and a stalling footfall recovery into stores make the H&M investment case especially difficult. Yet, at current valuations, the market seems to be factoring in a much quicker recovery from COVID-19 than is likely, and therefore, I think shares could be vulnerable to significant downside revisions in the coming quarters.
Promising September Numbers but Caution is Warranted
From the FQ3 results, I think the better than expected improvement in September trading numbers was perhaps the biggest surprise. The fact that sales only declined c. 5% in local currency terms despite c. 3% of the store base remaining shut was impressive in context, and certainly better than the c. 10% decline consensus was looking for heading into the print. The numbers also compare favorably to peers such as Inditex, which reported early September sales declining at a c. 11% pace.
The September numbers would seem to signal continued improvement ahead, but I would note comps are tough for FQ4 considering prior-year sales were up 8%. Additionally, the recent spike in COVID-19 cases in Europe is also a concern. And finally, I think it's also worth remembering that FQ3 net sales decreased by 19% Y/Y to SEK 50,870m (-16% in constant currency terms), as a result of the COVID-19 situation. By geography, Russia and Switzerland were the only markets with positive growth, while the largest declines occurred in key markets such as the US, the UK, and in Italy.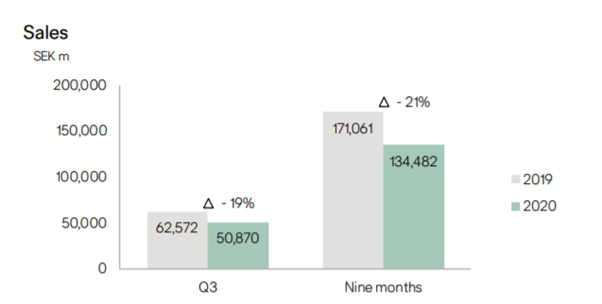 Source: H&M Nine-Month Report
Continued Markdowns Weigh on the Gross Margin
As of FQ3, gross margins declined by c. 200bps Y/Y to 48.9%, as markdown-related costs
…