Admittedly, there were plenty of pros from Credicorp's (NYSE:BAP) investor day event. Management's strategic consistency is commendable, and so is its efforts in driving digital transformation across the organization. Concerns around the evolution of payment behavior of clients and the cost of risk were also addressed.
Nonetheless, I think management has baked in too much optimism into the strategy, which does leave room for a downside surprise. Considering the multitude of risks on the horizon (both economic and political), fiscal 2021 is still likely to be a transition year, and I think it would have been more prudent to assume a more gradual normalization to pre-COVID-19 levels. Valuations have admittedly corrected below historical levels, but shares still trade above better-capitalized LatAm peers (Santander (NYSE:SAN), Itausa (OTC:IVISF), Bradesco (NYSE:BBD)) at c. 1.5x P/B.
Broadly Unchanged Strategic Direction
Somewhat surprisingly, Credicorp's strategy remained mostly unchanged compared to 2018, when management last discussed its medium-term targets. But considering the lower-growth environment we find ourselves in, this likely reflects some optimism on the part of management. For instance, loans are still expected to grow 7-8% from 2022 onwards (only slightly below the 9-10% growth range outlined before). Credicorp is also expecting a swift rebound in Peru's GDP following a 12% decline in 2020, with an 8-10% growth outcome projected for 2021.
Digital Initiatives Lead the Long-Term Charge
Digital transformation remains at the forefront of the strategy. While the digital shift helps to improve customer experience, I think the key is that it helps the company capture incremental cost efficiencies. At the forefront of the company's digital innovation push are Yape (over 4 million users for payments) and Cocos y Lucas (FX operations), which will facilitate the target for 70% of all transactions to go digital in three years.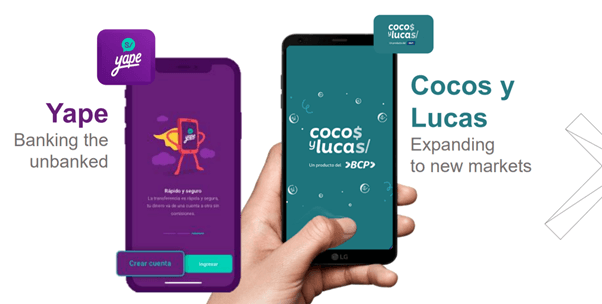 Source: Credicorp 25
…