After a blistering five-month rally, the market dipped in September, testing investor confidence with its most significant pullback since March.
It was a volatile month for stocks, punctuated by weakness in big tech, surging COVID infections across Europe, a stimulus stalemate in Washington, and election jitters. While progress continued on the vaccine front, economic data underlined concerns about the recoveries in the labor market and broader US economy. With unemployment still near its highest level in almost a decade and second-quarter GDP down more than 30%, the Federal Reserve committed to holding interest rates near zero for at least the next few years, and Chairman Jerome Powell once again pressed lawmakers for more federal stimulus to help bolster the recovery.1
Here's a quick rundown of what else happened in the markets last month and what's on the horizon.
US equities
Stocks posted their first monthly loss since March. After reaching new record highs in early September, the Nasdaq twice fell into correction territory (down 10% from a recent high) while the S&P 500 crossed that threshold on an intraday basis before a late-month bounce helped limit the damage. Both indexes are still positive for the year.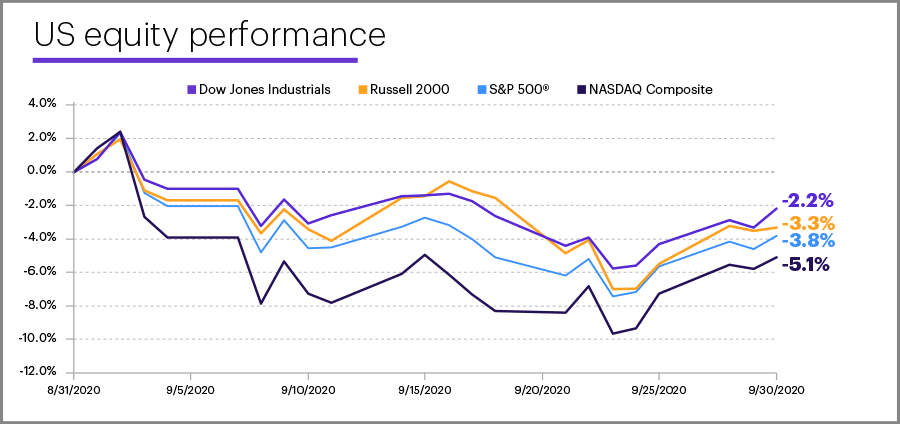 FactSet Research Systems
---
Tech shares were especially volatile, although many analysts viewed the pullback as an understandable development for a potentially overheated area of the market. The materials sector was the month's best performer (and the second-best last quarter), fueled by a pickup in demand as the economy reopened.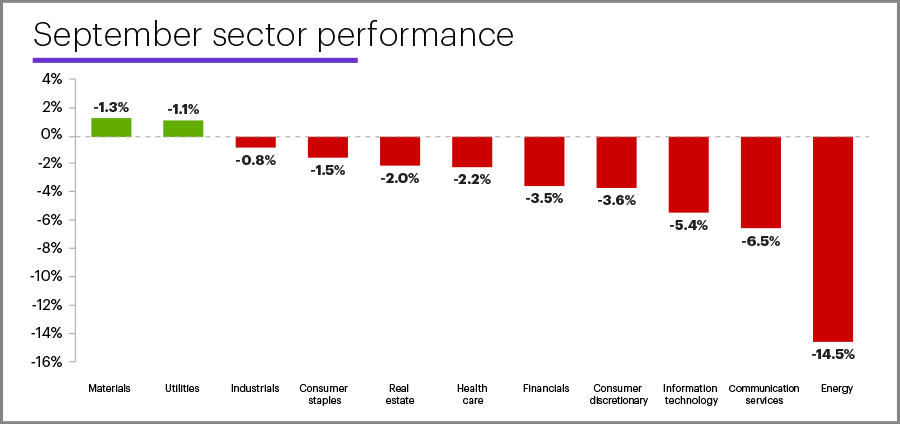 FactSet Research Systems
---
International equities
International equities also lost ground, but overseas valuations continue to look attractive compared to their US peers. With both sides of a well-rounded portfolio (stocks and bonds) currently challenged by high prices and low yields, foreign equities have emerged as a key diversification tool.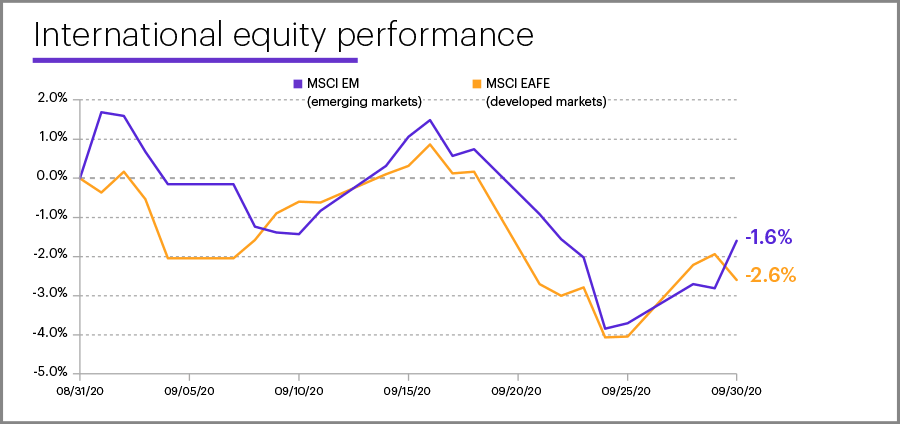 FactSet Research Systems
---
Fixed income
…