The S&P 500 (Index: SPX) closed the trading week ending Friday, 9 October 2020 at 3,477.13. That falls within three percent of its 3 September 2020 all-time record high close of 3,580.84.
The index rose, fell, and rose again with the prospects for another round of fiscal coronavirus stimulus coming from the U.S. government during the week. That action puts the level of the S&P 500 in the upper half of the latest redzone forecast range of the alternative futures chart – the latest update to which shows the projections of the dividend futures-based model through the end of 2020: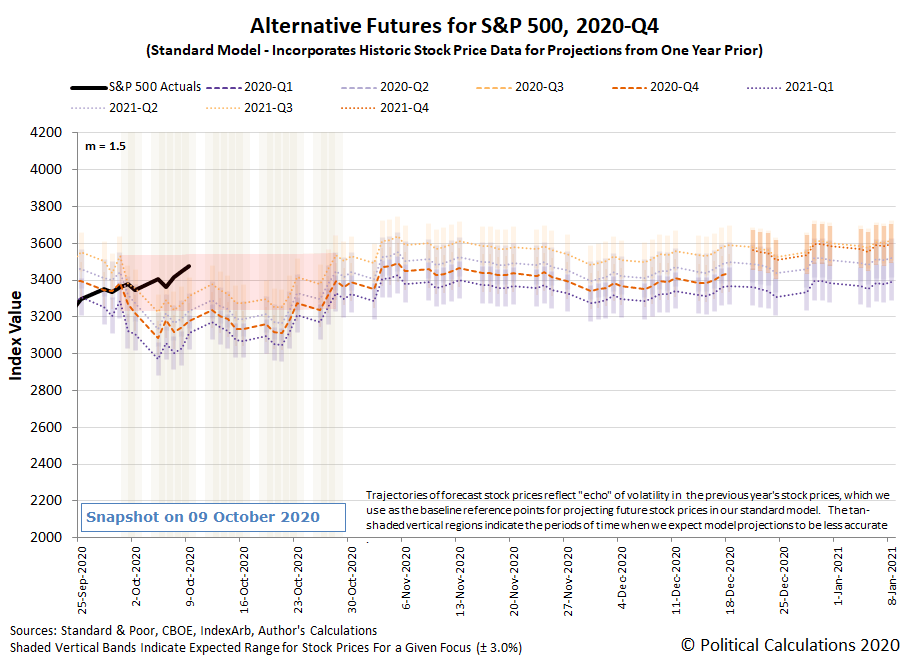 What the alternative futures chart doesn't yet show is what could result for markets following the outcome of the U.S. elections. Here, if candidate Joe Biden wins, we would anticipate a partial repeat of 2012's Great Dividend Raid.
That event was triggered in November 2012 after President Obama won re-election, which all but ensured an increase in federal income tax rates in 2013. Influential investors pulled ahead as much dividends as they could before the end of the year, which caused stock prices to rise sharply.
That would be the portion of the Great Dividend Raid we would reasonably expect to repeat during the fourth quarter of 2020 in the "Biden wins" scenario, because he has pledged to increase both personal and corporate income tax rates, and also the tax rates that apply upon both dividends and capital gains.
All these tax hikes would potentially devastate the market in 2021, but that would depend upon the actual tax changes that would be enacted. In 2013, President Obama's fiscal cliff tax deal raised personal income tax rates, but lower tax rates held for dividends and capital gains, making it advantageous for influential investors to channel investment returns through them rather than
…