Safe Yields by Lipper Category
Chart #1 shows Total Return for the past 12 months of funds in Lipper Categories versus risk as measured by the Ulcer Index which is based on the length and duration of drawdowns. Three clusters of categories can be seen. The upper leftmost cluster are those with low risk and higher returns. The size of the sphere is proportional to the yield. The lower left most cluster are those with lower returns and higher risk. The center cluster represents those with moderate risk and returns. What the chart shows is that most higher yielding funds have higher risk.
Figure #1: Seeking Yield with Low Risk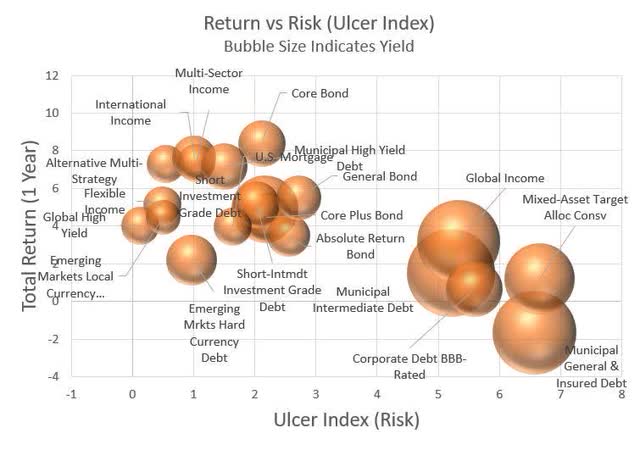 Source: Created by the Author Based on Mutual Fund Observer Screens
Table #1 contains the data used in Chart #1. All categories have at least 2% yield. The green area is the low risk categories with moderate 12-month returns. The yield divided by Ulcer Index represents the yield that an investor receives for the risk (Ulcer Index) that they are taking. Martin Ratio is the risk free, risk-adjusted return. The yellow cells contain categories that have slightly more risk, decent 12-month returns and slightly higher yields. The categories in the red shaded area are higher risk categories which have also had lower returns. I added a fourth category of funds that have exhibited low risk, but I believe with COVID recurring in some regions have higher risk. The top two categories are the ones where I prefer to invest.
Table #1: Lipper Categories by Return, Yield and Risk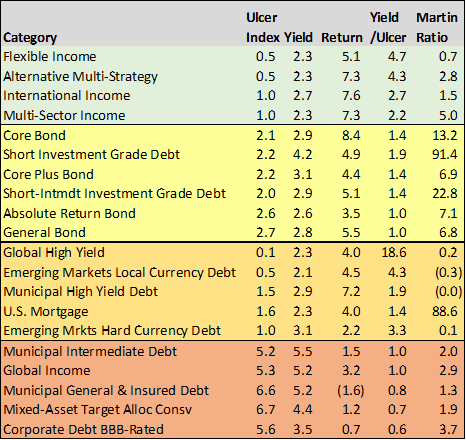 Source: Created by the Author Based on Mutual Fund Observer Screens
Table #2 contains some of the top-ranked funds from my ranking system based on risk, risk-adjusted returns, momentum, income, and quality. These correspond to the green shaded "lowest risk" categories in
…