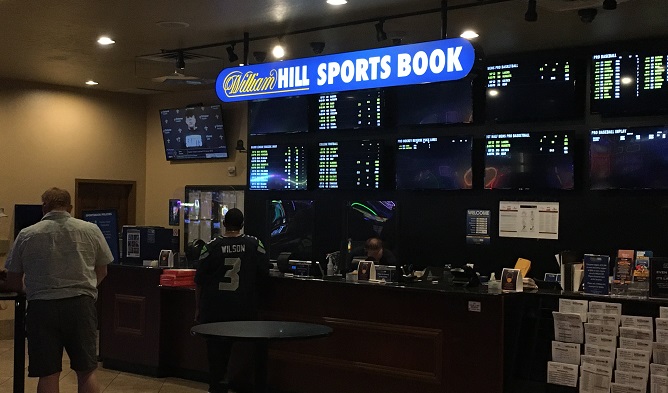 (Sports bettors check the odds at William Hill sports book at Tuscany Casino in Las Vegas.)
Sports fans across the country are showing more willingness to take a financial interest in the outcome of games, and in 18 states that allow sports betting, they may not even have to leave their couch to do it.
In two years since the U.S. Supreme Court ruled against the Professional and Amateur Sports Protection Act, the gaming industry has seen a widespread trend of casino operators partnering with tech companies that offer online and mobile betting platforms.
Penn National Gaming (PENN) acquired a 36 percent share in Barstool Sports, a leading digital sports media company, joining Boyd Gaming (BYD), MGM Resorts (MGM), Caesars Entertainment (CZR) and others going after the estimated $40 billion sports betting business.
Penn paid about $163 million in cash and convertible preferred stock to become Barstool's exclusive gaming partner for up to 40 years. The company also gained the right to use Barstool's brand for all of Penn's online and retail sports betting and internet casino games.
"The partnerships you see developing between operators, teams, leagues and the media are a natural evolution of how sports betting is rolling out throughout the United States," said Brendan Bussmann, partner and director of government affairs for Las Vegas-based Global Market Advisors.
Going forward, wagering will become part of sports culture, he added. Even before the repeal of PASPA, sports fans and commentators talked about point spreads and money lines in their normal conversations.
Jay Snowden, president and CEO of Penn National, said the partnership with Barstool Sports reflects the company's strategy to evolve from a regional gaming operator with 41 properties in 19 states to a "best-in-class omnichannel provider of retail and online gaming and sports betting entertainment."
"With 66
…