Investment Thesis
Fueled by chronic undervaluation despite the solid financials and a rich pipeline, Alexion Pharmaceuticals, Inc. (ALXN) has frequently been the subject of acquisition rumors as investors demand a sale of the company. Management has revised up the 2020 revenue guidance twice over the past three months, but the shares have underperformed the broader market in the year so far. The top line growth continued unabated even through a raging pandemic, and margins have also held up. The rivals are challenging the prospects, but proactive measures are in place to neutralize the threat.
The current NTM EV/EBITDA multiple stands at a sharp discount to the historical average, which, along with our conservative EBITDA forecast, based on revenue assumptions in line with the past, indicates an undervalued stock. Meanwhile, the strong cash flows and net cash position have attracted acquirers looking for growth at a cheap valuation. Amid acquisition rumors, we therefore turn "Bullish" on the stock as management's renewed commitment to buybacks supports the shares.

Source: Company website
Long-term Undervaluation
Persistent undervaluation and investor demands for a sale have once again seen Alexion becoming the subject of a possible acquisition. A potential target of Amgen (AMGN) in 2019, the company has triggered interest from Biogen (BIIB) last month as the activist investor, Elliott Management, calls for a sale of the company questioning its strategic direction. Their logic is not without merit. Targeting ten product launches by 2023, the company is currently advancing twenty development programs, up from only four at the end of 2017. Since 2017, the top line has jumped ~55.9% through the LTM (last twelve-month) period, while the net income nearly doubled. Yet, the stock has dropped ~6.0% over the period, underperforming the 58.2% gain in the NBI (NASDAQ Biotechnology Index).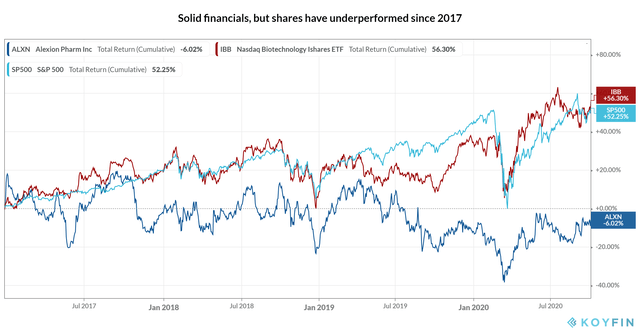 Source: Koyfin
Underwhelming Revenue Guidance
Over
…