Despite what many of my fellow millennials may think, bankruptcy is a simple concept.
In my opinion, Moody's and the other big credit rating agencies tend to be extremely conservative in their outlooks and ratings. Thus, it stood out to me that Moody's considered Revlon's (NYSE:REV) previous debt exchange offer, that was not accepted, to be a "Distressed debt exchange."
The July offer Moody's was referencing was widely rejected, with only 5.1% agreeing. 95% was needed, so that offer did not come close to being accepted.
The failed offer description, from Moody's again:
"For any bonds tendered for exchange by August 7, 2020, each $1,000 offered by bondholders for exchange will receive $750 in new bonds plus a $50 participation fee for a total of $800. Bonds tendered between August 8, 2020 and August 21, 2020, when the exchange offer expires, will receive $750 of new bonds for each $1,000 of existing notes. The exchange offer is contingent on 95% participation from bondholders and consent from Revlon's term loan lenders. Consent from the term loan lenders is required because the term loan credit agreements expiring in 2023 and 2025 only consider cash repayments of the February 2021 bonds. Investors who don't participate risk having the bond covenants removed."
Now, there is a second offer on the table. This is a new offer.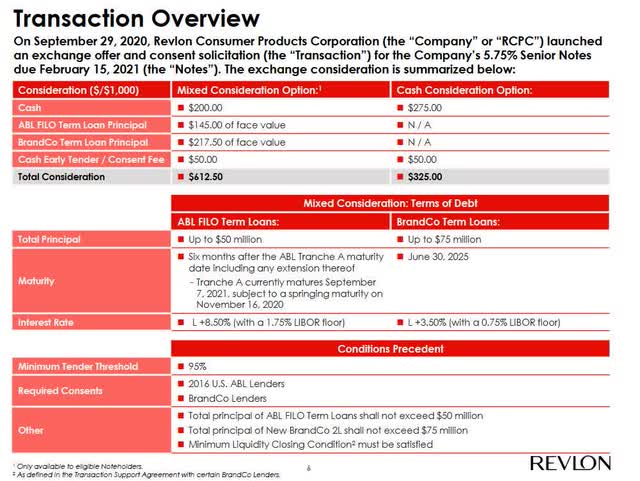 The previous offer was higher, with less cash. This one offers $250 cash if tendered by 10/13, plus $362.5 in ABL Filo term principal, and Brandco Term loan principal, for a total of $612.50 for every $1000 in notes, or .6125 cents on the dollar.
For retail investors, the basic thing to understand is that Revlon has offered more cash for this next offer, albeit with a lower total amount from 80 cents on the dollar to .6125
…