Investment Thesis
Headquartered in Atlanta, Georgia, and with about $3 billion in assets, Atlantic Capital Bancshares, Inc. (ACBI) is a commercially focused bank with specialties in specialty corporate lending, private banking, and commercial real estate finance solutions. The company has the 13th largest deposit market share in the greater Atlanta MSA, just behind Cadence Bancorp (CADE), Renasant (RNST), and Bank OZK (OZK).
I am a little more constructive on the bank since the first quarter update. The exposure to economically sensitive loans has narrowed to 9% of total loans (from ~30%). To me, this means that potential realized losses could be lower than previously expected and roughly in line with other regional bank peers. The core net interest margin (NIM) remains under pressure but expense control should help profitability over the near term.
When weighing out the puts and takes, I am still neutral on the stock. This partially is due to ACBI's valuation, which is roughly in line with its peer group. While I believe the company should be a beneficiary of competitive disruption in the Atlanta market, I think there are more pressing issues over the next few quarters.
When mixing in valuation relative to the riskier credit profile, I suggest potential shareholder remain on the sidelines, at least until the third quarter update in a few weeks.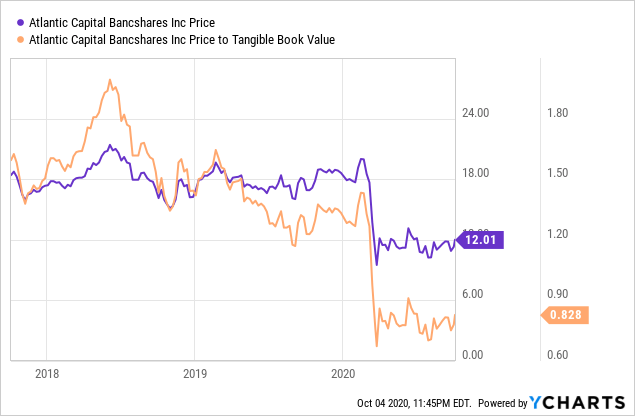 Revenue Outlook
In the second quarter, ACBI reported EPS from continuing operations of $0.09 versus consensus expectations of $0.13, relative to its $0.10 in the first quarter. The second quarter downside came primarily from elevated provisioning offset partially by higher revenue and lower expenses. The company's pre-provision net revenue was $11.1 million, compared to $10.5 million in the first quarter and $9.7 million in the second quarter of last year.
In the second quarter, net interest income
…