As you know, once a month, we look at 29 currencies in search of the evidence of popular delusions and the madness of crowds. The idea is to find anomalies and bullish or bearish divergences that will break the trend, not prolong it. It is a painful exercise, but also highly rewarding.
In order to find the most overbought and oversold currencies, I conduct five econometric studies: over-extension analysis, secular performance analysis, oil correlation review, economic divergence analysis and effective exchange rate study. Additionally, I look at traders' positioning to understand the psychological state of the market.
Analyzed currency pairs: AUD/USD, EUR/USD, GPB/USD, NZD/USD, USD/CAD, USD/CHF and USD/JPY.
Relevant ETFs (most popular): CROC, OTC:ERO, EUFX, FXA, FXB, FXC, FXE, FXF, FXY and OTC:GBB.
Macro Forces
Before revealing the results, let me first say a few words about the current global market environment. This is important because global macro conditions cannot be numerically measured and cannot be directly factored into econometrical models. They must be studied in qualitative terms. In my opinion, the most important theme impacting global foreign exchange market right now is the spread of coronavirus and the possible economic damage that it may cause.
See below the outlook on the world's major economies (China, the Eurozone and the United States) for two scenarios: one with and one without a second wave of the virus.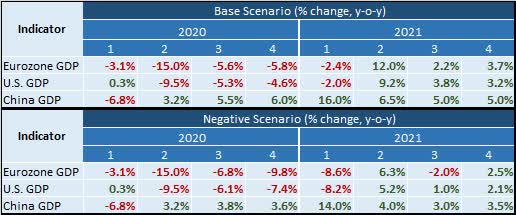 Source: ABN AMRO; Baseline scenario: second wave less severe, no renewed lockdowns; Negative scenario: a second wave of infections and a second lockdown.
Although the risks of a renewed lockdown are still substantial, the baseline scenario assumes that the virus remains reasonably under control. Local outbreaks will continue (as at present) and fresh measures will be taken where necessary, but no national lockdowns
…