MLPs followed up last week's modest bounce with a huge week in a risk-on surge for equity markets, commodity markets and everything else this week. MLPs led the way for a second straight week, beating the AMNA by nearly 300 basis points. Oil prices, natural gas prices, and the stock market were all strong this week, which helped.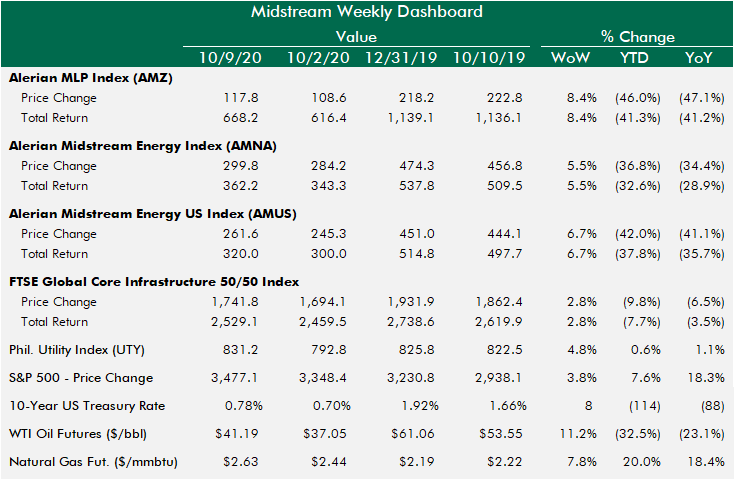 Monday's big positive move was helped by an MLP roll-up announcement and TRGP's positive update. Wednesday's big positive move seemed to be short covering after the vice presidential debate where Kamala Harris was emphatic about Biden not banning fracking. PAA was particularly strong after being pressured as the posterchild for a fracking ban on federal land.
This year, including this week, the AMZ has rallied 8% or more in a week five times, reflective of the heightened volatility of 2020. For context, 2019 had just one such week (the first week of 2019), and 2017 and 2018 had no 8% weeks.
AMZ has bounced 11% off the low point of September, and AMNA has bounced 6%. The positive move after the horrible September has been a nice respite, but it does feel like the rest of 2020 will continue to exhibit high levels of volatility in both directions as hedge funds whip things around and investors trade through the election and tax loss season.
Universe Update: Right Now
It's been a few months since I updated the below chart. A few notes on the changes in the last few months:
CNXM and EQM have exited the MLP structure (although ETRN is still out there)

I also moved TCP's market cap into TRP-CA's in the chart below and removed it from the MLP count.

There are only 28 midstream MLPs left with $250mm or more in market cap.

There are 7 midstream MLPs
…