Let thy step be slow and steady, that thou stumble not. – Tokugawa Ieyasu
Ever since its inception in January 1987, DNP Select Income Fund (DNP) has been paying dividends consistently. Its distribution reliability and operational durability are factors that have earned it the reputation of a trustworthy fund for income seekers. This is the reason why its market price trades at a premium to its NAV. For the record, its NAV is $8.47 whereas its market price is $10.09 as of October 5, 2020.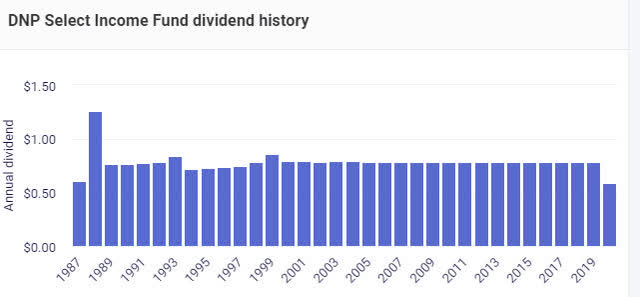 Source: Wallmine
Is the price premium justified? Is DNP a buy for income seekers today? Here's my take:
Investment Strategy & Portfolio
DNP's goal is to provide investors with current income and long-term income growth by investing mainly in equity and fixed income securities of companies in the public utilities sector. Capital appreciation is a secondary objective.
As of April 29, 2020, DNP's balance sheet totaled $3.67 billion. Its borrowings were $997 million as of the same date, and its stockholder's equity and retained earnings were $2.64 billion and $594 million, respectively.
Its top 10 holdings as of July 31, 2020, that accounted for 27% of its total investments were:
Eversource Energy (ES): A renewable energy utility
Ameren Corp. (AEE): Another renewable energy utility
Xcel Energy (XEL): Yet another company focused on renewable energy
Crown Castle International Corp. (CCI): Currently riding high on 5G
Evergy Inc. (EVRG): Kansas-based regular energy utility
CMS Energy Corp. (CMS): An energy utility that serves Michigan
NextEra Energy (NEE): Another strong renewable energy company
WEC Energy Group (WEC): A regular energy utility that serves Wisconsin, Illinois, Michigan, and Minnesota
American Water Works Co. (AWK): Water and wastewater management utility with strong financials
Public Service Enterprises Group

(NYSE:PEG)

: An energy utility backed by strong financials
DNP's top 10 holdings make
…