Article Scope
One quarter ago, on July 1, I started a new model portfolio called the Dividend Growth 30, which features 30 dividend growth stocks that I believe will be solid long-term buy-and-hold investments. Following up on September 30, I will take a look at the portfolio's performance, and notable items – which stocks did well, which did not? We will also take a look at how dividend changes have impacted the portfolio's income.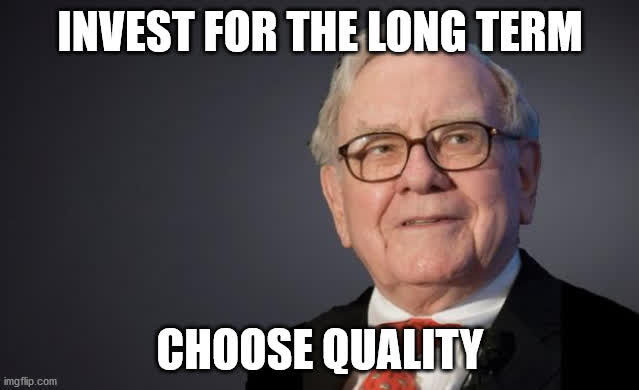 Source: imgflip.com
Quick Recap
In summer 2020, shortly before turning 30, I decided to build a model portfolio that includes stocks which I believe will do well over the coming decades. I thus chose companies with strong market positions and wide moats versus competitors that should do well in different market conditions. More on the reasoning for individual stocks can be read here. The original article also includes more info regarding why I decided to build this portfolio and why I am writing about it.
One Quarter Has Passed
At the end of Q3, following the market close on September 30, I took a look at what the portfolio looked like following its first quarter. On a share price return basis, the performance has not been bad: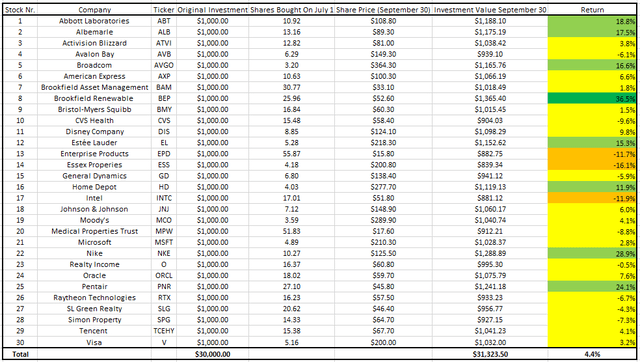 Source: Author's calculation
During the first three months, the portfolio delivered a return of 4.4% before dividends. Not all stocks moved in line with each other, however, as there were quite wide discrepancies.
Winners
Stocks with a 10%+ share price increase during the quarter include Abbott Laboratories (ABT), Albemarle (ALB), Broadcom (AVGO), Brookfield Renewable Partners (BEP), Estée Lauder (EL), Home Depot (HD), Nike (NKE), and Pentair (PNR).
Brookfield Renewable was the overall best performer, with a 37% share price gain, adjusted for its stock split during the quarter. This came on the back of an increasing market focus on
…