The specialist in medical delivery technology, Catalent (CTLT) has been inching higher steadily, as those who are aware about the company's important role in the availability of a COVID-19 cure have been buying the stock.
While the stock price of better famed peer Emergent BioSolutions (EBS) with three times more followers on Seeking Alpha has also being trending higher, its path has been somewhat more volatile. One of the factors that can explain this volatility is strong following by the retail trading crowd tracking COVID-19 vaccine news.
Figure 1: Comparing stock performance for Catalent and Emergent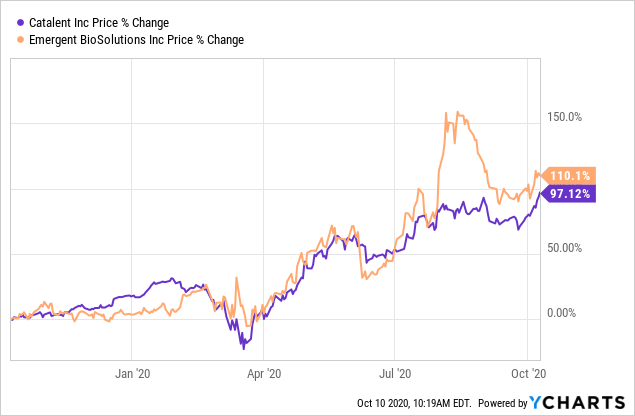 This has not been the case with Catalent despite the company inking three manufacturing agreements with COVID-19 vaccine developers, including big names like Johnson & Johnson's (NYSE:JNJ), Moderna (NASDAQ:MRNA) and AstraZeneca (NASDAQ:AZN), to provide fill-finish capabilities.
Fill-finish manufacturing
Fill-finish is a lesser-known but crucial step between development of vaccine by biotechs and its availability for clinical trials in testing centers or, at a later stage, on a more widespread basis in hospitals and points of care for administration to patients. Fill-finishing basically involves putting the vaccines in vials or glass containers under strict hygiene or sterile conditions to prevent contamination.
Biotech companies resort to the likes of Catalent for this critical process, as any contamination would adversely impact efficacy of the vaccine and result in significant economic losses for them.
Now, for investors, an important question is whether Catalent will be able to honor its manufacturing contracts with these big names.
The answer is yes, for both drug substance manufacturing and drug product manufacturing capabilities both in the U.S. and Europe. Facilities include Bloomington for Johnson & Johnson and Moderna, as well as Anagni (Italy) for AstraZeneca, but there are other locations too.
Also, the fact that the company
…