Article Thesis
W. P. Carey (WPC) is a REIT that operates in an attractive, low-risk niche of the industrial real estate sector. The company has generated solid growth in the past, and should be able to grow its funds from operations going forward as well. It offers reliable dividend growth and an attractive dividend yield of close to 7%, while shares also have upside potential of up to 50% over the next couple of years. The combination of these factors makes WPC worthy of a closer look.

Source: StockRover
Compared to its peers in the triple-net space, WPC has a below-average valuation (in terms of cash flow and EV/EBITDA), while also providing an above-average dividend yield. Last but not least, its valuation is on the lower end of the 5-year range, whereas many of its peers are trading above the historical valuation median.
WPC Is A Strong Triple-Net REIT In The Industrial Space
WPC is a triple-net REIT, but unlike many peers such as Realty Income (O) or National Retail Properties (NNN), it is not focused on retail real estate. Instead, the REIT mainly owns warehouses, industrial properties, and some office buildings, which naturally don't have to worry about the impact that online retailers have on the brick-and-mortar retail space.
WPC is active in both the US (63%) and Europe (35%). This results in some geographic diversification, although it adds some currency rate exposure.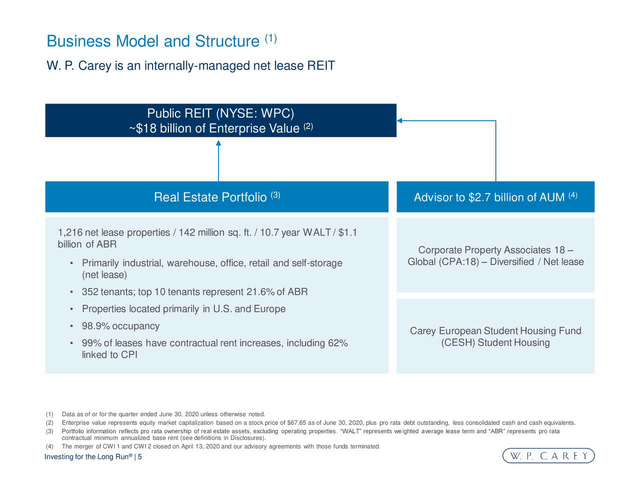 Source: WPC presentation
WPC has some advisor business on top of managing its own properties, but with just below $3 billion of AuM, this side of the business does not provide a large portion of revenues and cash flows.
The company owns more than 1,200 properties, and there is a lot of diversification across tenants, with more than 350 tenants in total. The top 10 tenants
…