The chase for yield has created a lot of distortions, and investors are reaching out to more and more unusual choices to satiate their yield cravings. As a general rule, this creates more risk, and one has to be aware that the crowd that canters in can also be a part of the stampede that gallops out. Hence, caution should be the name of the game. But then, what should an investor use to get returns without dialing up the risk?
At the shorter end, Treasuries are yielding zero percent. At the longer end, they are yielding virtually zero percent.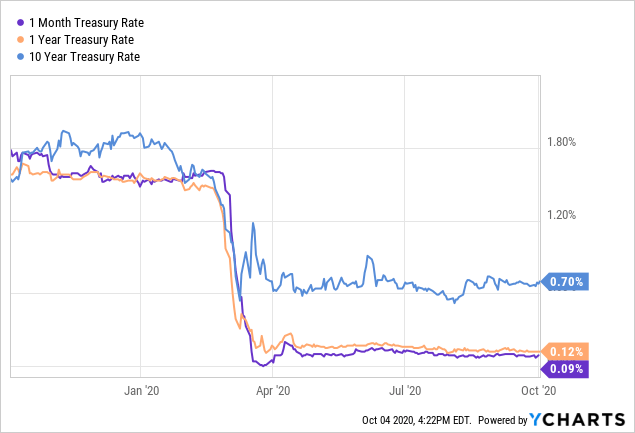 Even the 10-year note with its 0.7% yield, when transferred into an ETF with expenses and management fees, gives one as much satisfaction as a stifled yawn. Enter the protagonist of our story.
PIMCO Enhanced Short Maturity Active Exchange-Traded Fund (MINT)
While the ticker might have been suited for an ETF focusing on toothpaste manufacturers, MINT actually invests in investment-grade short-term corporate bonds. The key point that we like about this ETF is the varying maturities it holds, resulting in it having an overall portfolio bond duration of less than one year. This is ideal for an ETF when investors are trying to get a relatively higher yield while maintaining a cash-like stability.
The fund is actively managed and states that it aims to maintain an overall portfolio duration of less than 12 months. It is run by the bond giant PIMCO, which has marketed MINT as a cash alternative.
Current Holdings
As of the most recent update, MINT holds 17% in US government-related instruments and almost half in investment grade bonds.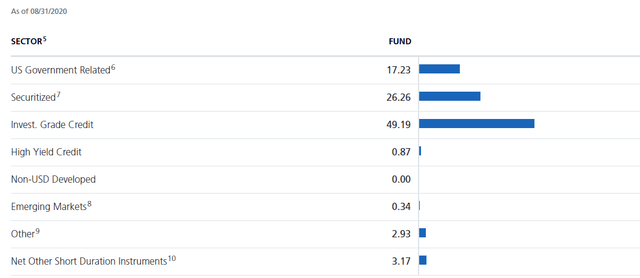 Source: PIMCO
As far as credit ratings go, the fund is extremely conservative. BBB and below holdings make up only about 10% of the fund.
…