This year has been rather disappointing for shareholders in British-based defense firm BAE Systems (OTCPK:BAESY). Year to date, the stock has lost nearly 17% of its value, despite resilient growth in its order intake during the first half of 2020.
Looking ahead, however, there are three key reasons investors should consider buying BAE Systems.
1. Defense Spending Provides Stability
The defense sector is traditionally seen as a reliable safe haven for uncertain times. But fewer and fewer major defense firms are pure plays in the sector these days. In pursuit of what had been perceived as faster-growing markets, many in the sector increasingly earn revenues from commercial and other non-defense markets. Those firms with heavy commercial market exposure now face unprecedented economic headwinds.
Unlike many of its peers, BAE still earns nearly all of its revenues producing military equipment and providing military services. This contrasts with Airbus (OTCPK:EADSY) and Boeing (BA), both of which earn less than a third of their revenues from defense contracts. Raytheon Technologies (RTX), following its merger with United Technologies' aerospace business, now also earns a substantial majority of revenues from its commercial aerospace divisions.
Companies that focus overwhelmingly on military markets have fared much better, benefiting from the long-term nature of military contracts and the relative stability of defense budgets. What's more, amid rising geopolitical tensions, maintaining and modernizing defense capabilities remains a top priority for many governments.
BAE's order intake for the first six months of 2020 reflects this – new orders was actually higher than the same period last year, at £9.34 billion, compared to £8.42 billion for the six months to June 30, 2019. Underlying sales rose 4%, although underlying EBITA decreased by 11% to £895 million on higher costs.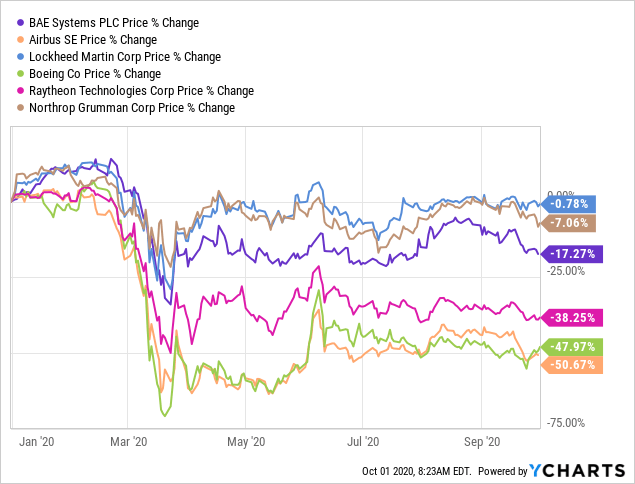 BAE's share price and valuations appear to be lagging
…