This weekly column explains the reasons behind the movement in a selection of the largest U.S. cash merger arbitrage spreads from the past week as calculated by Merger Arbitrage Limited. We analyze the attractiveness and profitability of each spread going forward and indicate the trading position or action we have taken or intend to take based upon the analysis given.
Fitbit (FIT)
Fitbit was the top performer from our index of the largest cash merger arbitrage spreads this week. This continues a resurgence in the performance of the stock which had previously traded significantly lower when news of the involvement of the EU Antitrust Authority first became public.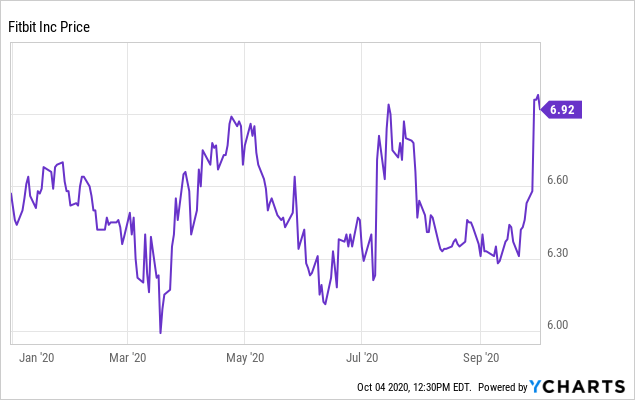 Following an extension to the 90 day EU competition investigation which is now scheduled to conclude by December 23, 2020, Google has offered additional concessions to help the deal progress. Amongst these concessions, Google said in a statement are
We're also formalizing our longstanding commitment to supporting other wearable manufacturers on Android and to continue to allow Fitbit users to connect to third party services via APIs (application programming interfaces) if they want to.
Upon hearing this news the market reacted positively and sent the stock sharply higher in early Tuesday morning trading. This action complements our previous analysis perfectly when we suggested the extension was seen as a positive sign and
working on the assumption the parties are in communication with the regulators and will be able to resolve any issues before the deadline.
Google's previous statement about the use of Fitbit data had done little to appease regulators. However, this latest round of negotiations is being viewed by many observers as sufficient to allow the deal to proceed and has caused the deal closing probability (DCP) to rise significantly.
Having risen steadily throughout the week, by the
…